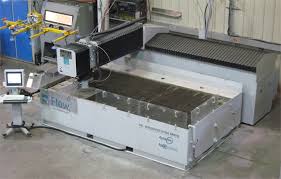 An important benefit of the water jet is the ability to cut material without interfering with its inherent structure, as there is no heat-affected zone (HAZ). Minimizing the effects of heat allows metals to be cut without harming or changing intrinsic properties.
Water jet cutters are also capable of producing intricate cuts in material. With specialized software and 3-D machining heads, complex shapes can be produced.
The kerf, or width, of the cut can be adjusted by swapping parts in the nozzle, as well as changing the type and size of abrasive.These small jets can permit small details in a wide range of applications.
Water jets are capable of attaining accuracy down to 0.005 inches (0.13 mm) and repeatability down to 0.001 inches (0.025 mm).
Due to its relatively narrow kerf, water jet cutting can reduce the amount of scrap material produced, by allowing uncut parts to be nested more closely together than traditional cutting methods.
Meatcutting using waterjet technology eliminates the risk of cross contamination since there is no contact medium (namely, a blade) between different metals.